Awamo[1]

アワモ

Personal Data
Universe
1st Universe
Race
Angel
Gender
Male
Professional Status
Occupation(s)
Attendant for Hakaishin
Partner(s)
Iwen
First Appearance
Anime Debut
DBS078
Tools
Image Gallery
Awamo (アワモ) is an Angel and the attendant for Iwen, Hakaishin of the 1st Universe.
Appearance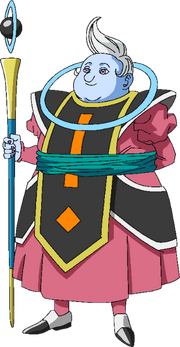 Abilities
Dragon Ball Super
Universe Survival Arc
In Other Timelines
Trunks' Timeline
In Zamasu's quest for justice, he killed Anato of the future to subsequently kill his Hakaishin, which lead to this Angel ceasing to function until the next god were to appear.
Trivia
His name possibly comes from "Awamori" (泡盛), an alcoholic beverage indigenous to and unique to Okinawa, Japan.
References