"The Legend of a Dragon"
Kanji
龍の伝説
Rōmaji
Doragon no Densetsu
Literal English
The Legend of a Dragon
FUNimation
The Legend of a Dragon

Episode Info

Previous
DB032
Next
DB034
Arc
Red Ribbon Army Arc
First Broadcast
Japanese
October 8, 1986
English
February 15, 2002
Character debut(s)

None in this episode

Technique debut(s)

None in this episode

Tool debut(s)

None in this episode

"The Legend of a Dragon" (龍の伝説, Doragon no Densetsu) is the thirty-third episode of the Dragon Ball anime.
Summary
Gokū calls the Kintoun to save him just before the flying fortress explodes. Then he heads off towards the nearest signal on the dragon radar. Back at the Kame House, Muten Rōshi tells Kuririn and Lunch the legend of the Dragon Balls. Long ago, the seven balls were one, but evil forces tried to steal it. The ball split itself into seven useless parts, but when combined, they summon the eternal dragon who will grant one wish. Gokū follows the radar to a forest where he finds the Red Ribbon Army also in search of the ball. The army is burning down the forest, so Gokū tries to stop them. Suddenly, a monkey runs by holding the five-star ball. Colonel Silver shoots at it, causing the monkey to fly over the edge of a cliff. Gokū grabs it, but the monkey drops the ball into a river.
Trivia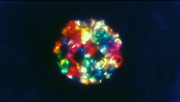 This episode tries to explain the origin of the Dragon Balls by spinning a tale of Earth's Dragon Balls as a singular sphere before they split into the seven orbs as they are known today. The introduction of God, and the later explanation of the Dragon Balls as shown in the manga, contradicts this filler statement.
Credits
Community content is available under
CC-BY-SA
unless otherwise noted.