Hit[1]

ヒット Hitto

Epithet
Hit the Infallible (百発百中のヒット, Hyappatsu-Hyakuchū no Hitto; FUNimation "Never Miss Hit")[2]
Personal Data
Universe
6th Universe
Race
Alien
Age
c. 1000[2]
Gender
Male
Voice Actors
English
Mathew Mercer
Aaron Roberts (DBXV2)
Japanese
Kazuhiro Yamaji
Professional Status
Team(s)
6th Universe Team
6th Universe
Occupation(s)
Hitman
First Appearance
Manga Debut
Dragon Ball Super Volume #1, Chapter #7
Anime Debut
DBS032
Game Debut
Dragon Ball Heroes
Techniques
Image Gallery
Hit (ヒット, Hitto) is a legendary hitman, who was known by his infamous moniker Hit the Infallible (百発百中のヒット, Hyappatsu-Hyakuchū no Hitto; FUNimation "Never Miss Hit") from the 6th Universe. He was a member in both incarnations of the 6th Universe Team competing as a member of the 6th Universe and 7th Universe Hakaishin Selection Martial Arts Competition and the Tournament of Power.
Personality
Hit was a cool, silent, keen and serious individual. A personality fitting of the strongest known fighter in the 6th Universe. Because of his personality, highly keen warriors such as Gokū and Vegeta could sense the threat Hit posed to their team, and kept their true abilities hidden until they fought him.
Hit appears to despise thieves who attempt to break his bargaining with others as he confronted Frost to stop him from stealing Team 6th Universe's reward and Champa's cube. Hit also has a sense of honor, throwing the fight against Monaka when he realized he was just a filler amateur for the 7th Universe team, who were already down a team member beforehand even though he would have gotten Champa's cube for winning. Hit also seems to have some respect for Goku, as he was willing to fake a match after learning Goku resolve. Even offering to fake the latters death after learning of assasination he has to take.
Appearance

Hit was a purple, humanoid alien with a lean, yet slightly muscular build. He bears physical resemblance to the Frost Demon species while they are in their final forms. He has red eyes, and dark purple skin; with lines framing his face, the skin on his face was a lighter shade of purple. His cranium has a noticeable division in the center, and on the side of his head, he possesses ears or similar constructs that are the same shade of purple as his face. His attire consists of form-fitting armor; an indigo under-suit, with a dark purple breastplate, elbow-pads, wristbands, and a long-coat, as well as similarly colored knee-pads, and black-tipped boots. He wears an indigo belt with a golden belt buckle across his waist.
Abilities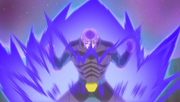 Hit was the strongest mortal in the 6th Universe, being able to easily defeat Vegeta[2] and Son Gokū[3] in their Super Saiyan Blue transformations. Hit's restrained fighting style revolves around using pressure point attacks to damage his opponents' vital points, and he was a completely physical fighter. His true style, however, involves attacking the opponent with a single strike from the front, crushing their heart. Hit was extraordinarily fast and has great strength, being able to easily incapacitate Frost. Hit was also able to survive in an environment with no atmosphere, seen when he followed Frost outside the dome to incapacitate him.
Hit has also displayed the ability to detect godly ki. He could sense Gokū's ki while the latter was increasing his power with Super Saiyan Blue Kaiōken, detailing the increase in increments.[4] After nearly a year of training, Hit's powers completely outclassed Gokū's despite his battles with Gokū Black and Zamasu, killing Gokū with one punch.[3] Even after Gokū revived himself with his own ki blast, he had difficulty fighting Hit, and ultimately their battle ended up as a draw.[5] Hit's skills were so advanced, he was able to defeat Dispo of the Pride Troopers after adapting to his speed, and Jiren considered him and Son Gokū to be the only true threats to him in the Tournament of Power.
Physical Prowess
Hit was gifted with super strength and super speed to an extremely high amount. His blows are easily able to draw blood from the likes of Super Saiyan Blue Gokū and Vegeta, even knocking out the latter. Though the most extraordinary thing about him was the sheer speed he possesses: to make effective use of his Time-Leap he needs to strike before 0.1 (later 0.5) seconds can pass. As shown against Frost, he can easily land a barrage of strikes before that time passes, showing he can move far faster than the speed of light. Hit has been shown to have small wounds disappear within minutes.
Pure Progress
Main article: Pure Progress One of Hit's most impressive abilities, however, was the ability to improve continually as he fights. By fighting an opponent who was his superior, Hit's physical capacities improve, as well as the versatility of Hit as a fighter, shown as he adjusts his stats and adapts to his opponents combat style. Hit's Time-Leap was also shown to improve.
Time-Leap
Main article: Time-Leap Despite the name, it does not involve actually moving forward into the future, so much as freezing time. Hit was able to freeze time for 0.1 seconds, enabling him to effectively reduce an opponent's reaction time or land hits on opponents that have attacked first and thus have minimal defense. There does seem to be an interval in between uses of this technique, however.
During his battle with Gokū, Hit was able to improve his Time-Leap up to 0.5 seconds, allowing him to freeze time between 0.1 and 0.5 seconds; this improvement allows Hit to completely reduce an opponent's reaction time as well as increase the improbability of any counter.
After a year of training, Hit's prowess with the Time-Leap had improved immensely. He could now sustain it for minutes and engage in lengthy conversations with his targets which he could also 'unfreeze' from the technique while leaving the rest of the universe frozen.[3]
Shifting
Main article: Dimension Shift After a year of training, Hit gained an entirely new ability which he showed off during his rematch with Gokū. He was able to phase through all of Gokū's attacks without taking any damage, leaving Gokū unable to hurt him. This ability was related to, yet distinct, from his Time-Leap.[3]
Intelligence
As an famous assassin he's an expert in its craft, with a long line of successful kills under his belt. He is a master of timing, counters, and hand to hand combat. He's highly astute and intuitive in analysis of others.
Part IV
See also: Dragon Ball Super
Hakaishin Champa Arc
Main article: Hakaishin Champa Arc Hit was one of the fighters the Hakaishin Champa brought in to participate in the tournament between the 6th Universe and 7th Universe. After Vegeta defeats Frost, Frost attempts to steal Champa's cube and Team 6th Universe's reward. However, Hit arrives and knocks Frost unconscious with his Time-Leap. Hit notes that Champa's transportation cube will be his reward if his team wins. Hit takes the unconscious Frost back to the tournament ring.[6]
After Magetta and Cabba are defeated, Hit steps into the ring to face Vegeta. The battle is short as Hit is able to completely subdue the Super Saiyan God Super Saiyan Vegeta with his Time-Leap and pressure point attacks while Vegeta is unable to counter Hit's Time-Leap. The announcer declares Hit the winner; Hit compliments Vegeta for surviving his attacks.
Gokū is the next fighter from the 7th Universe to battle. The battle between Hit and Gokū begins with Hit being able to subdue Gokū with his Time-Leap and pressure point attacks. However, when Hit uses his Time-Leap again, Gokū is able to counter and strikes Hit's face. Hit activates his Time-Leap again, only for Gokū to counter and kick Hit back. Gokū tells Hit that he quickly predicted how Hit's movements will be after 0.1 seconds of time, which is how he countered the Time-Leap. Hit takes his hands out of his pockets, causing Gokū to comment that Hit has decided to fight seriously and he also decides to fight seriously.[7]
Gokū transforms into a Super Saiyan God Super Saiyan and lands many blows against Hit whose Time-Leap proves ineffective against the powered up Gokū. Gokū attacks Hit, but surprisingly, Gokū fails and Hit strikes one of Gokū's pressure points. Gokū struggles to get back onto his feet after Hit attacked his pressure point.
Hit notes that Saiyans become stronger by transforming, but there is only one way for him to become stronger which is improvement, thus he improved his Time-Leap by increasing it to 0.2 seconds after witnessing Gokū transform; Hit reveals that he has never tried to improve himself since there was no need to but after looking at Gokū, he thought he can also be better than he already is like Gokū which is why he decided to improve himself. Champa implores Hit to finish Gokū, but Hit allows Gokū to stand up and continue fighting since Gokū was able to help him improve. After getting up, Gokū prepares to attack again. Suddenly, Hit activates his Time-Leap but Gokū isn't able to predict Hit's movements nor counter allowing Hit to strike Gokū multiple times. Gokū collapses to the ground as Hit says that he has improved his Time-Leap to 0.5 seconds which is why Gokū wasn't able to counter at all; Hit orders the announcer to declare Gokū unable to fight.
Suddenly, Gokū gets back on his feet, much to Hit's surprise as well as Vegeta, Beerus and Champa. Gokū refuses to give up so easily since it will be unfair towards Hit to end the fight anticlimactically. Gokū decides to unveil his new yet incomplete technique which has only a 10% chance of working; Gokū powers up and successfully activates his Kaioken while still in his Super Saiyan Blue transformation, resulting in a transformation called Super Saiyan God Super Saiyan Kaioken; the power of Super Saiyan Blue combined with Kaioken. Hit is surprised at Gokū's new transformation and becomes shocked when he isn't able to keep track of Gokū's movements.
After Gokū multiplies his Super Saiyan God Super Saiyan Kaioken by ten times, Hit clashes with Gokū but he is completely helpless against Gokū's newfound strength and speed, unable to counter or defend and is attacked by Gokū multiple times. Gokū kicks Hit into the air and fires his empowered Kamehameha while Hit uses his Time-Leap to defend against it. The clash between Hit and Gokū's Kamehameha releases a blinding light.[8]
"Future" Trunks Arc
In Other Media
Dragon Ball Super (manga)
See also: Dragon Ball Super#Manga
Hakaishin Champa Arc (manga)
Video Games
Hit, along with the rest of his team, made his appearance in the Dragon Ball Heroes God Mission Trailer 8, serving a similar role to his role in Dragon Ball Super. He made his début proper in Dragon Ball Heroes as a playable character, and later appeared in Dragon Ball Z Dokkan Battle as a summonable fighter. He is also confirmed to appear in Dragon Ball XenoVerse 2 as a playable character.
Hit is a playable character in the following video games:
Trivia
References
Community content is available under
CC-BY-SA
unless otherwise noted.