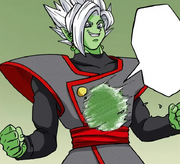 Immortality (不死身, Fujimi), also known as Eternal Life (永遠の命, Eien no Inochi),[1] is a common element in the Dragon Ball series that is often an objective that can be completed through the use of the variants of Dragon Balls. This wish has been pursued by the likes of the Saiyans, Vegeta and Nappa and even Evil Emperor Freeza.
Known Cases
Trivia
Despite not being stated to be immortal, Fortune-Teller Baba and Tsuru-Sennin have lived for as long as Kame-Sennin, and Taopaipai is the younger brother of the same long-lived Tsuru Sennin.
In Dragon Ball XenoVerse 2, Zamasu's Super Soul, "I really do love being immortal", mimics immortality. When the user dies, they will revive on their own without aid.
References
Community content is available under
CC-BY-SA
unless otherwise noted.