Roselle

ローゼル Rōzeru

Personal Data
Universe
9th Universe
Race
Alien
Gender
Male
Voice Actors
English
Anthony Bowling
Professional Status
Team(s)
9th Universe
First Appearance
Manga Debut
Chapter 33 (Super)
Anime Debut
DBS096
Techniques
Image Gallery
Roselle (ローゼル, Rōzeru) is one of the 9th Universe strongest warriors.
Personality
Despite Freeza's claims of the 9th Universe fighters having a certain kind of toughness, Roselle was easily terrified of Freeza during their battle. He chose elimination from the tournament rather than facing the tyrant himself.[1]
Appearance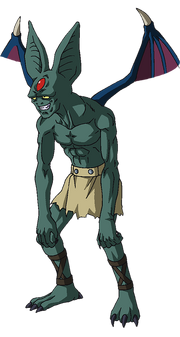 Roselle was a winged humanoid, looking quite similar to a large bat. He had dark green skin, black eyes with yellow sclerae, large ears, and was well-built. He wore only a cloth on his waist, as well as strapped sandals that reached his calf.[1]
Abilities
Roselle was evidently a powerful warrior, being selected by Rō and Sidra to compete in the Tournament of Power. His wings also allowed for natural flight, circumventing the tournaments rules. However, despite his strength, he was no match for the power of Freeza in his Final Form.[1]
Part IV
Universe Survival Arc
Having been picked to represent his universe, Roselle arrives at the Tournament of Power alongside the 9th Universe Team, Rō, Sidra and Mojito. When the tournament begins, Roselle soon finds himself being tormented by Freeza, leading to him jumping off the tournament ring in order to escape. When his team are all eliminated, Roselle along with his universe and all its inhabitants are erased.[1]
Trivia
References
Community content is available under
CC-BY-SA
unless otherwise noted.