Lord Slug (スラッグ, Suraggu) was Nameccian saved from from the destruction of his home world's climate change. Slug was also one of the last surviving Super Nameccians.[1]
Background
Personality
Appearance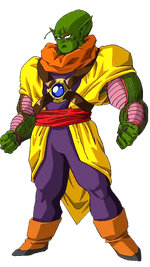 Abilities
By the Kaiō of the North's statements, Slug's strength eclipses that of Freeza.
Plot Overview
Dragon Ball Z: Super Saiyan Son Gokū
Dragon Ball Z: Plan to Eradicate the Saiyans
In Other Media
In Video Games
Trivia
Slug bears several similarities to the original Piccolo Daimaō; he was a Nameccian sent from his home planet to another planet to save himself, became enamored with evil on his new home planet, and eventually tried to conquer the world. To further these similarities, he used the Dragon Balls to wish for youth, had four henchmen to do his bidding, and was killed when Goku ripped a hole through his body.
In the English dubbed version of the seventh film, Slug's backstory is starkly different. As opposed to being sent away from Namek to be saved, Slug was instead part of a tribe of 'Super Nameccian' who became enamored with their powers, and were banised from Namek through the use of the Nameccian Dragon Balls.
References
↑ Dragon Ball Z: Super Saiyan Gokū