Sous Roast (スー=ロース, Sū Rōsu; Crunchyroll "Sous Roas"), also known by her alias Roasy (ロージィ, Rōjīi; Crunchyroll "Rozie"), is a warrior from the 2nd Universe, and a member of the Maiden Squadron. She was also selected to participate in the Tournament of Power.
Appearance
Sous bears the appearance of a young girl with purple hair, a round face, and green eyes. She wears a yellow shawl, worn over a white shirt, red skirt, and red boots. Her accessories consist of her white hat and red glasses.
Abilities
Transformation
Formation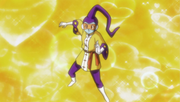 Like other members of her team, she can utilize the Formation transformation, to increase her fighting capabilities. The Formation technique is a transformation which requires an immense start-up time, and thus, leaves her vulnerable to all forms of attack during this time. However, when successful, the end result is a unique and powerful transformation.
Part IV
Universe Survival Arc
Trivia
Sous Roast's name is a potentially derived from Sous Roast (スーロース) a way to prepare roast beef. Which coincides with puns of each of the 2nd universe's characters, each named from meat.
"Sous Roast" is not seen in the manga. She, like Ribriand and Kakunsa, lack their magical girl theme. Her abilities seem to be limited to stretching her arms.
Community content is available under
CC-BY-SA
unless otherwise noted.