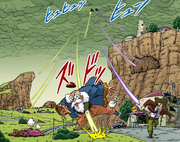 The Zero Mortals Plan (人間0計画, Ningen Zero Keikaku; FUNimation "Project Zero Mortals", Viz "Zero Human Project/Zero Mortal Project"; Literally meaning "Zero Humans Plan") is a trans-temporal plan that involves multiple instances of the disruption of space and time, where various versions of Zamasu attempt a universal genocide of humans and gods.[1] Ultimately, the plan was a success in Trunks' timeline, with Zamasu becoming non-corporeal and spreading throughout the universe and future multiverse which wiped out all the mortals there except for Zen'ō and our heroes.[2]
Trivia
Dragon Ball XenoVerse 2 would attribute this plan to the future Zamasu, despite the fact that the Zero Mortals Plan was Black's creation; this is even stated by Black himself.
References
↑ Dragon Ball Super episode 61
↑ Dragon Ball Super episode 67
Community content is available under
CC-BY-SA
unless otherwise noted.